Pilot Plus One

Pilot Plus One © was created by Jolie Lucas. Her belief is that while we should always inspire the love of flight in children, there is a built in time lag of 8-10 years before they are flying. The idea with Pilot Plus One © is simple; provide education, inspiration and adventure to those flying left, right, and back-seat. PPO is a one-day educational seminar featuring industry leaders. We are proud to be presenting a full-day workshop at all 4 AOPA Regional Fly-Ins across the US.
Topics include:
More Than Just the $100 Hamburger
: Fun Destinations to Fly by George Kounis, Pilot Getaways Magazine.
Getting to Know Your Airplane
: Familiarization for Non-pilots by Jolie Lucas and Jan Maxwell
Overcoming Fear Unleashing Potential
: addresses common fears of pilots and right-seat flyers by Robert DeLaurentis, Pilot, author, and philanthropist.
Picture Perfect
: tips and techniques to get the best in-flight and at destination photos by professional aviation photographer, George Kounis-Camarillo, Jim Koepnick-Groton, CT Norman, OK Tampa, FL
Right Seat Ready!
© Companion safety seminar by co-founders Jan Maxwell & Jolie Lucas. Covers aircraft control, emergency communications, navigation, heads-up flight display, and landings.
Fantastic Door Prizes provided by: Lightspeed Aviation and Flying Eyes Optics
Our YouTube video:
https://www.youtube.com/watch?v=A_s5NtE1P5o
Registration Camarillo:
bit.ly/2m4QfnYPilotPlusOne
We lost a Mooney legend recently. Bill was always available to Mooney owners to answer questions and help with technical advice and expert knowledge. I am so happy that I got to film Bill for Boots on the Ground: the Men and Women who made Mooney. I have included some favorite moments as well as some previously unreleased scenes. He was a fantastic person and good friend. I am sure he is in Heaven working on a speed mod for his new wings. Godspeed Bill, till we meet again.

Jolie Lucas

©MooneyAmbassadors 2016

Bill Wheat In Memoriam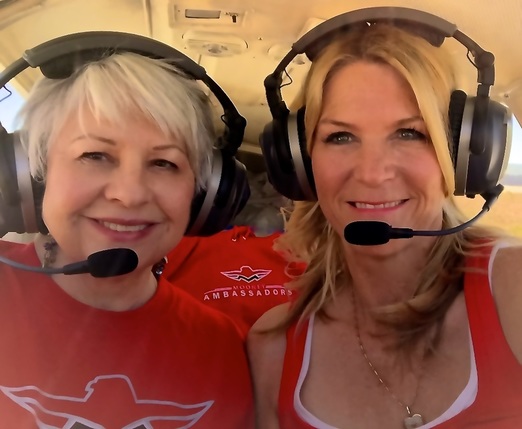 Right Seat Ready!
Instructors Jan Maxwell and Jolie Lucas are able to provide one, two and three day companion seminars that are Mooney specific. Please contact Jolie for 2018 scheduling.


---
AOPA Opinion Leaders Blog: Click here to read the latest blog from Mooney Ambassador Founder Jolie Lucas.

EAA AirVenture 2017
Our Mooney Family is the best. it was fun to see the Acclaim Ultra!

© Jolie Lucas The Mooney Ambassadors. All rights reserved. 2009